From Sea to Shining Sea
The Story of "Thank You, Soldiers!"



As Veteran's Day 2010 came and went, students all over the United States learned something about the sacrifices made by so many Americans, through a special little song called, "Thank You, Soldiers". The song, written by music teacher Michael Souders and his wife, Angela, was recorded by the 3rd graders at Tussing Elementary School, in Colonial Heights, Virginia, and subsequently uploaded with a picture video to Youtube.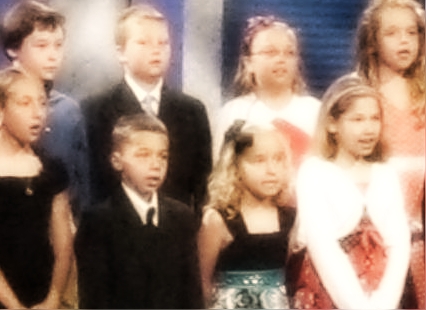 The song was intended to be a heart-felt 'thank you' to veterans and current serving soldiers. "It is truly a beautiful song and I know it will be well received by our young men and women of all branches of service," said Pat Clowe, of Sweet Adeline's, Intl. in Kailua, Hawaii.

Within several weeks of its posting, the video went "viral" on the internet and surpassed 100,000 views online. To date, the view count is well past 2 million, and the song has become a national favorite. "We estimate that the song was performed between 10-15,000 times during the Veteran's Day holiday", says Souders. "The number of requests for the sheet music has been staggering." "What a gift they (the Souders) have given us," said Tracy Hall, of Mt. Vernon School District in the state of Washington. "I can't believe they have made this song available to schools across America free of charge." An exciting vote of confidence came in a personal note from the Chairman of the Joint Chiefs of Staff, Admiral M.G. Mullen. "I was truly impressed with the students' performance and could feel the support in their voices," he wrote. "You should all be proud."

Souders has done radio interviews from Atlanta, to Denver, to Portland, Oregon, and continues to receive daily email requests for the music and soundtracks. Paul Madsen of Madrid, Spain said, "My elementary music students really enjoyed this song in particular as we studied examples of patriotic songs from several countries." "I am so proud that the song continues to gain acclaim", says Souders, "because it demonstrates how much our country appreciates our military."

Indeed, the response from individual student performances all over the country has been extremely positive. "There is interest in my community to see this performance over and over again...the response was phenomenal!" exclaimed Theresa Witt, of Menomonee Falls, Wisconsin. Nita Meierhoff, a music teacher in Anchorage, Alaska said, "We sang the song twice, and everyone was so pleased…it is a great song and a wonderful DVD." Tracy Hall confessed, "I can't tell you how touching it was…when our 640 students sang it together, I teared up and couldn't sing at first as I led the song." In June of 2011, Souders agreed to have the song published by the largest educational music publisher in the world, Alfred Publishing. "This marks a new chapter in the life of the song, since they have such a large distribution base."

"There is nothing more that I could ask," says Souders, "than for people all over the world to watch the video, appreciate our troops, and pass it along to everyone they know." Since their journey began, positive responses have also led Souders and the Tussing Elementary School students to record and release more songs in the same genre as "Thank You, Soldiers". A tribute to first responders, called "There's A Hero on the Way", and a swelling patriotic anthem called "Home of the Brave" are also viewable on youtube, and the sheet music is free for all who care to visit the Souders' website, "http://www.restored.faithweb.com".

THANK YOU SOLDIERS VIDEO (on youtube)
http://www.youtube.com/watch?v=5pfBUUZNbFM

To see the National Christian Choir's performance of "Thank You, Soldiers", click below:
http://www.youtube.com/watch?v=KS2uaGR7uWY

To learn all about our NEWEST Veteran's Day Song, click here-->This Is Still the Land of the Free!

To see the Colonial Heights City Council Resolution honoring Michael & Angela Souders, CLICK HERE


---